In this article I wanted to just give a good overview and recommend a basic small church live stream setup. I will also go over some basic gear to make your live stream possible. Most people, pointing to myself as well, feel like they have to have this incredible setup to be able to live stream well. Don't get me wrong, I believe that the church should be a leader and reflection of excellence within our communities; but a lot of the time, perfection prevents progress. So let me encourage you to step back and figure out what you need this tool to do.
Since COVID-19, live streaming has been necessary as churches are gathering in isolation in our homes. If you serve in a small church, you most likely had to quickly put together a streaming system. Or, maybe you have gone a different route and premiered or pre-recorded all your services. You may be wanting to live stream going forward during this transition back to gatherings. One thing this pandemic has taught us is that technology can be used as a ministry to reach more people and give a small window into what services at your church gatherings look like. Fact: 95% of church's attendance average less than 500 people a week. How many of those churches do you think had a live stream or even an internet audio or video presence before this pandemic? Live streaming is a ministry! Check out this article on if you should continue to live stream.
System Overview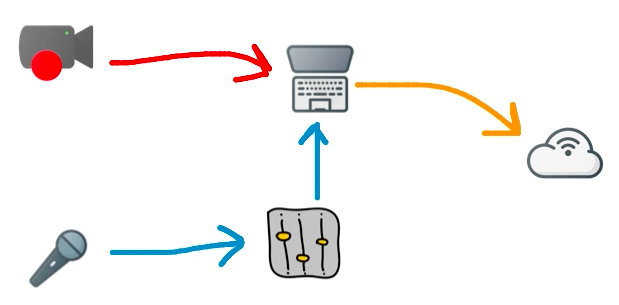 You need a way to capture both audio and video. Most small churches have the audio part covered because we have microphones and soundboards. From there you just need an encoding or device to stream it to a platform on the internet where it can be viewed. Easy enough right?
Basic Setup
Once again let's remember the purpose of live streaming. For most of us small churches we will only need to live stream to minister to those that are still not able or comfortable coming to services yet. This simple small stream setup I am going to share with you is really that simple: you could pull out your smartphone and go live on Facebook or Youtube just by creating a free account. One minor improvement from that step would be a phone tripod and a better microphone to capture audio better.
Tripods are going to allow you to lock in the shot that you want and prevent the phone from shaking while capturing the video. It is a small "upgrade" that can really make the difference in getting a stable video from a smart phone. For a tripod I would recommend the Ravelli APLT6. It includes a universal mount for smartphones. It has an aluminum body and is really built solid. At the time that I am writing this you can purchase one on Amazon for $37.
Click here to get the current pricing – Ravelli APLT6
The other upgrade that I would recommend is to capture good audio. Research shows that people are more likely to stop watching a video if the audio is poor than if the video is bad. The microphones in cell phones are not good and usually cannot pick up music well at all. Will a small boom mic capturing audio from your churches sound system speakers will make are great improvement and is a must have, even over the quality and stability of you video.
First, for a smartphone with a microphone you will need a holder that will also provide a place to mount a microphone. A great kit with aluminum mount and microphone is the Ulanzi ST-03 Mount. After that, you need a microphone. I have used and am always amazed at the sounds I am able to capture from this microphone.
The Rode VideoMic GO Light –
If you are a new iPhone user you will need to make sure you have the adapter to be able to plug in this microphone.
Conclusion
So that is really it! Setup the phone on the tripod with the microphone and "go live" on Sunday. This setup will give you a great picture and great audio, with a low barrier to entry. If you have any questions regarding this setup and any others contact us, I would be willing to help. In the comments below, let me know if you are live streaming and what your setup looks like.